Senior Celebration
May 18th, 2018
Senior Celebration is a time to come together and celebrate students' accomplishments and be reminded of the new challenges that await both parents and students. We will enjoy tasty desserts.
We will have two TED type talks one for parents and one for students. After the talks, you will be invited to take time for a Manhood/Womanhood ceremony. You can find a spot at church or if you want to invite others to be a part of it, host at your home afterwards. Attatched to this registration is a Ceremony guide. Please take a look at it and begin planning. This can be a powerful milestone as your students transition into adulthood.
Here is a peek at the information:
A few years ago, I was asked to participate with a dad who wanted to hold a special evening of blessing for his 18-year-old son. He asked a few of the men who have been influential in his son's life to attend, and after each of these men spent some time sharing, it was the father's turn. It was amazing to watch. He began by asking his son to kneel down on the ground in front of him. Then, he went over to the closet. He brought out this huge Braveheart sword that he had bought for this evening. And then he laid this sword down on the son's shoulder, and he said something to him that I will never forget. He said, "Son, I know many 30- and 40-year-old men who act like children because no one ever told them that they were men. So tonight, on your 18th birthday, based on the authority of God's Word that He has given me, I say to you that you knelt down as a boy; you will rise as
a man."
You know what? That was one of the most powerful parenting moments I have ever witnessed. Watching the look on that man's face--When he stood, he stood with pride. You see, he was a
man because his dad said he was. The Blessing in
that moment was unleashed. When you unleash your Blessing as a parent, you're unleashing your teenager to change the world. Who wouldn't want to give that kind of Blessing to their son or daughter?
Your student ministry wants to help you exercise your biblical authority to proclaim to your son or daughter that they are now an adult. Every great story needs to have a grand finale. This manhood and womanhood ceremony is the grand finale to the story of your teenager's childhood and adolescence. It's an opportunity to hold a figurative mirror up to their soul and give them a glimpse of who God created them to be. When you bless your teenager during this time, you're focusing less on their performance and more on their identity. This is a great time to invite key people in the life of your teenager to join you and explain to them what a real man or a real woman of God looks like. Through this expression of authority, you are unleashing your teenager into adulthood with your Blessing. There is nothing more powerful than that. Your student ministry has provided you with resources that you need to create an amazing grand finale.
TOP 10 WAYS YOU CAN MAXIMIZE THE MOMENT:
Discuss the ceremony with your 12th grader. Should it be private, public, formal, or casual? They can help choose the format, but they can't choose whether or not they will receive the Blessing of the ceremony.
Decide who to invite. Send them not only the details of the evening but give them an idea of what you expect them to share with your 12th grader at the ceremony. That will give them time to prepare.
Be ready for questions. Your teenager might see this as strange or awkward, which is actually pretty typical. It will be something that will be more easily understood when experienced. Learn to be comfortable with questions and utilize the answer, "You'll have to just wait and see" quite a lot.
Prepare to give them a symbol. Decide what you will give them and what meaning you are going to attach to it. If you can, try to make this a surprise for your 12th grader. Surprises are typically pretty fun.
Write down what you plan to say. Not only will it calm your nerves to read it, but you can also give a written copy of it to your 12th grader for them to keep. For help in planning what to say, you can download "The Guide to Giving a Blessing."
Bless identity, not performance.
Be creative. Every ceremony is completely different because it comes from the heart and mind of the parents leading.
Pray. Give all of the guests an opportunity to pray over your teenager.
Scriptures of Blessing. Here are some Scripture references that you might want to read during the ceremony.
Risk vulnerability. If the ceremony is cold or unfeeling, it won't work. This will be significant when you are willing to open your heart and hold a mirror up to the soul of your 12th grader so they can see their identity in your words.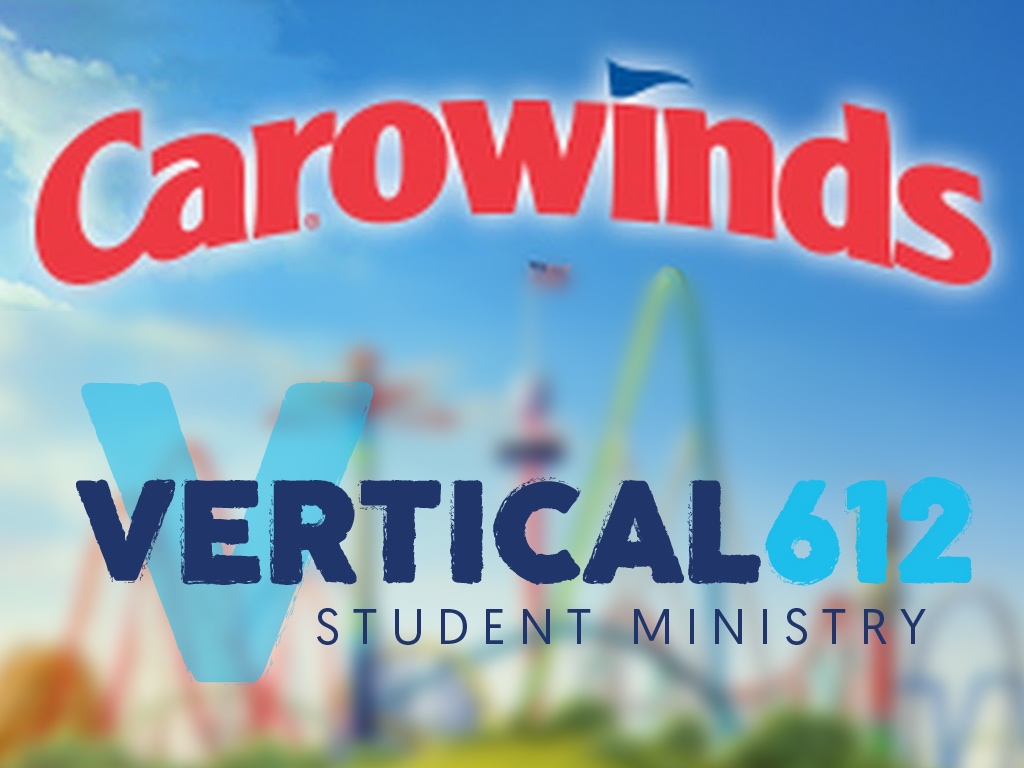 Carowinds Trip (Vertical 612)
June 21st, 2018
$0 - $35
Join us for a one-day trip to Carrowinds! Event cost includes admission to theme park and water park. Each participant will need to bring money for 2 meals, as well as proper clothing and sunscreen for a day of rides (and swimwear/towell if going to the water park).
We will rent a cabana for the group, so there is no need for individual locker rentals.