Becoming a Titus 2 Woman - Leaving a Legacy
January 1st - December 31st, 2018
Do you love God and his word?
Do you have experience in life to share?
Do you have a heart to see women grow in their faith?
If you answered "yes" to those questions then you are ready to follow God's command in Titus 2 to encourage and develop godliness in younger women—those younger in faith, in life experience as well as in years.
For ladies wishing to be mentors, there is a 10-12 week commitment for training. Carmen Roberson will be teaching the class and will be using "True Woman 201 - Interior Design" by Mary Kassian & Nancy Leigh Demoss as curriculum. Currently, mentor training is scheduled to resume in the Fall of 2018.
Anyone wishing to become a mentor or wanting to be mentored, please click 'register now' at the right to fill out the assessment form. We use these assessments to match mentors to mentees. We look forward to you becoming a part of our mentoring program.
Serving at Sandhills
January 1st - December 31st, 2018
Ready to take the next step on your journey to live a Christ-centered life? Serving at Sandhills Community Church is one of those steps. There are lots of ways to join in, and get connected with other Sandhillians at the same time. To get started, click the blue 'Register Now' button to the right and follow the instructions; you do not need to sign in, just check the box next to your name and click the 'Next' button. We will never, ever share your personal information.

First Time Guest Survey
January 1st - December 31st, 2018
We appreciate your visit with us, and thank you for being willing to give us your feedback! This should take just a minute or two, and your opinion is very important to us; we go over these responses every week at our staff meeting, and will pray for you during this time if you leave us a request. To get started, please click the 'Register Now' button on the right and follow the instructions; click the 'Only Me' button when registering. We will never, ever give out your e-mail address to another party.
Sandhills University - Spring 2018
March 1st - May 31st, 2018
$20 - $25
Sandhills University is the place to go deep in your relationship with the Lord and with your understanding of the Bible. Our classes are often taught by some of the most prominent Bible teachers and professors in Columbia.
Classes are $25.00 per person or $40.00 per couple.  Price Includes class materials, refreshments and childcare. Classes are from 7pm to 8:30pm on Thursday nights and will resume March 1, 2018.  Scholarships are available. Please see contact Pastor Tom Medeiros at Tom@sandhillschurch.org or Merrilee Pace at merrilee@sandhillschurch.org. Sign-ups begin January 28, 2018.
This registration is to request childcare and to collect payments only. To register for the acutal class, please click here
Foundations (Membership Class)
April 29th - May 20th, 2018
Class Dates - April 22, April 29, May 6, & May 20
Time - 1:00pm-3:30pm
Foundations is our membership class, taught by the leadership of Sandhills. Foundations meets every month and consists of four Sunday afternoon sessions. Here's where you learn all about Sandhills: what we believe, how we relate to God and each other, and how we reach out to our community. Lunch and childcare will be provided.
Ladies Ministry Prayer Meeting
May 4th - December 7th, 2018
SCC ladies meet together the 1st Friday of every month at 9:30am to pray for our ladies, our missionaries, our leadership and our world. All SCC ladies are invited to attend. Come join us - no registration needed. Light refreshments are provided. Childcare is not available.
.
JOY (Just Older Youth) Luncheon
May 7th, 2018
This ministry is for ages 55 and older and will meet the first Monday of every month.
We hope you will join us for our next JOY (Just Older Youth) Luncheon on Monday, May 7 from 11:30 AM - 1:30 PM at Sandhills Community Church (3513 Hard Scrabble Rd, Columbia, SC 29223). This will be a potluck lunch so be sure to bring a dish to share (Please do not bring food containing nuts). To RSVP for this event just click "Register Now".
Ladies Movie Night
May 11th, 2018
Ladies Movie Night Registration is Open!
Featured Movie: Moms Night Out
When: Friday, May 11th, 6:45pm
Where: Sandkidz Theater
---
Refreshments provided. Childcare is available.
Please register all event attendees and children needing childcare in advance. Registration will close Tuesday, May 8th.
Upon successful registration, the screen will say 'registration complete' and you will receive a confirmation message.
We will be collecting travel/hotel sized toiletries for Toby's Place women & children's shelter at this event.
Senior Celebration
May 18th, 2018
Senior Celebration is a time to come together and celebrate students' accomplishments and be reminded of the new challenges that await both parents and students. We will enjoy tasty desserts.
We will have two TED type talks one for parents and one for students. After the talks, you will be invited to take time for a Manhood/Womanhood ceremony. You can find a spot at church or if you want to invite others to be a part of it, host at your home afterwards. Attatched to this registration is a Ceremony guide. Please take a look at it and begin planning. This can be a powerful milestone as your students transition into adulthood.
Here is a peek at the information:
A few years ago, I was asked to participate with a dad who wanted to hold a special evening of blessing for his 18-year-old son. He asked a few of the men who have been influential in his son's life to attend, and after each of these men spent some time sharing, it was the father's turn. It was amazing to watch. He began by asking his son to kneel down on the ground in front of him. Then, he went over to the closet. He brought out this huge Braveheart sword that he had bought for this evening. And then he laid this sword down on the son's shoulder, and he said something to him that I will never forget. He said, "Son, I know many 30- and 40-year-old men who act like children because no one ever told them that they were men. So tonight, on your 18th birthday, based on the authority of God's Word that He has given me, I say to you that you knelt down as a boy; you will rise as
a man."
You know what? That was one of the most powerful parenting moments I have ever witnessed. Watching the look on that man's face--When he stood, he stood with pride. You see, he was a
man because his dad said he was. The Blessing in
that moment was unleashed. When you unleash your Blessing as a parent, you're unleashing your teenager to change the world. Who wouldn't want to give that kind of Blessing to their son or daughter?
Your student ministry wants to help you exercise your biblical authority to proclaim to your son or daughter that they are now an adult. Every great story needs to have a grand finale. This manhood and womanhood ceremony is the grand finale to the story of your teenager's childhood and adolescence. It's an opportunity to hold a figurative mirror up to their soul and give them a glimpse of who God created them to be. When you bless your teenager during this time, you're focusing less on their performance and more on their identity. This is a great time to invite key people in the life of your teenager to join you and explain to them what a real man or a real woman of God looks like. Through this expression of authority, you are unleashing your teenager into adulthood with your Blessing. There is nothing more powerful than that. Your student ministry has provided you with resources that you need to create an amazing grand finale.
TOP 10 WAYS YOU CAN MAXIMIZE THE MOMENT:
Discuss the ceremony with your 12th grader. Should it be private, public, formal, or casual? They can help choose the format, but they can't choose whether or not they will receive the Blessing of the ceremony.
Decide who to invite. Send them not only the details of the evening but give them an idea of what you expect them to share with your 12th grader at the ceremony. That will give them time to prepare.
Be ready for questions. Your teenager might see this as strange or awkward, which is actually pretty typical. It will be something that will be more easily understood when experienced. Learn to be comfortable with questions and utilize the answer, "You'll have to just wait and see" quite a lot.
Prepare to give them a symbol. Decide what you will give them and what meaning you are going to attach to it. If you can, try to make this a surprise for your 12th grader. Surprises are typically pretty fun.
Write down what you plan to say. Not only will it calm your nerves to read it, but you can also give a written copy of it to your 12th grader for them to keep. For help in planning what to say, you can download "The Guide to Giving a Blessing."
Bless identity, not performance.
Be creative. Every ceremony is completely different because it comes from the heart and mind of the parents leading.
Pray. Give all of the guests an opportunity to pray over your teenager.
Scriptures of Blessing. Here are some Scripture references that you might want to read during the ceremony.
Risk vulnerability. If the ceremony is cold or unfeeling, it won't work. This will be significant when you are willing to open your heart and hold a mirror up to the soul of your 12th grader so they can see their identity in your words.
Dominican Republic Medical Mission Trip 2018
June 12th - June 19th, 2018
$1,650
We will be staying 7 nights in the city of Jarabacoa while doing ministry near the city of La Vega. The types of ministry we could be doing are:
Medical Clinic
Delivering clean water systems to people's home's.
Sharing the Gospel with families we give clean water to Pastoral Training Encourage and helping the local church.
We have partnered with a new ministry this year called Global Effect. They have been in country transforming communities one community at a time for the last decade. We are really excited about partnering with them and the local church to help lift people out of spiritual and physical poverty! We are staying at a christian run motel with a restaurant were we will be served authentic Dominican food in Jarabacoa! During the day we will be transported to our ministry community with interpreters and local church leaders. We will also partake in some fun activities while we are there, we may hike to and swim at a waterfall and/or go to the beach for some snorkeling!
Each member of the group will be placed on one of 5 teams. Each team will be responsible for making sure everything is getting done for trip. The teams are as follows:
Administration (Finances, forms, logistics)
Equipment Team (Packing, group gear, packing truck, water)
Safety/Prayer Team (Physical, Emotional and Spiritual Safety and praying for people at the clinic)
Clinic Team (Organize the Clinic)
Documentary Team (Document and share our adventure)
Application and $100 Deposit Due March 5th
Passport:
16 and older $135-165 (Post Office downtown)
15 and under $120
Immunizations from USC Family Medicine 434-2233:
Tetanus - ($47)
Hepatitis A - ($36 if 18 or under, $62 if 19 and older)
Typhoid - $106 for injection 2 years protection $68 for capsules 5 years of protection
Cost:
$1650 - Covers airfare from and to Douglas, Charlotte Airport, all ground transportation in country, Meals, Lodging, Church Partnership, Medicine for clinics, T-shirt, Travel Insurance, Interpreters, Special meal out and a day trip.
Preparation Meetings (Mandatory):
March 4th 2:30 pm @ Sandhills

March 25th 2:30 pm @ Sandhills
April 15th - 2:30 pm @ Sandhills (Half Balance Due)
May 20th - 2:30 pm @ Sandhills
June 3rd - 2:30 pm @ Sandhills (Remaining Balance Due)
July 8th Celebration Party
Camp KidJam
June 16th - June 19th, 2018
$329
Camp KidJam is a sleep-away camp experience for our rising 3rd through rising 6th grade students! Students and Small Group Leaders go away for a 3-night, 4-day experience of high intensity Large Group Jam Sessions, Small Groups, Team Competitions and Individualized Tracks! There is even an opportunity for Small Group Leaders to participate in training each day with the very best Small Group Coaches on the planet! We will provide travel from the church to the camp that is being held at Lander University in Greenwood, SC.
Here is a link to a recent highlight video!
This Year's Theme:
MOVIN' ME!
What makes you move?
Music.
Pizza. (To the buffet line. )
An SEC Football Championship game. (Might make you hoarse, too.)
This summer, Camp KidJam dives into the lives of some people who were moved, not by something—but by SOMEONE. When these individuals met Jesus face to face and discovered who He was, their lives took a drastic turn.
// The Shepherds ran out to tell everyone they'd met the Messiah.
// John the Baptist drew crowds into the desert as he spoke about Jesus.
// The disciples dropped everything to follow Jesus.
// Zacchaeus scrambled up a tree to see Jesus—then vowed to pay back every penny to the people he'd cheated.
// And when Nicodemus snuck out to see Jesus, his whole world flipped upside down.
When we meet Jesus—we move, too.
He turns our way of life inside out.
He moves us to live for Him and the people around us instead of just ourselves.
// Love God, love others: that's the message of Jesus. //
Movin' Me challenges us to discover more about Jesus and allow His love to change our hearts forever. It encourages us to share that love with friends and family as we allow Jesus to move us in His direction.
Ready to make your move? Join Camp KidJam this summer… for Movin' Me!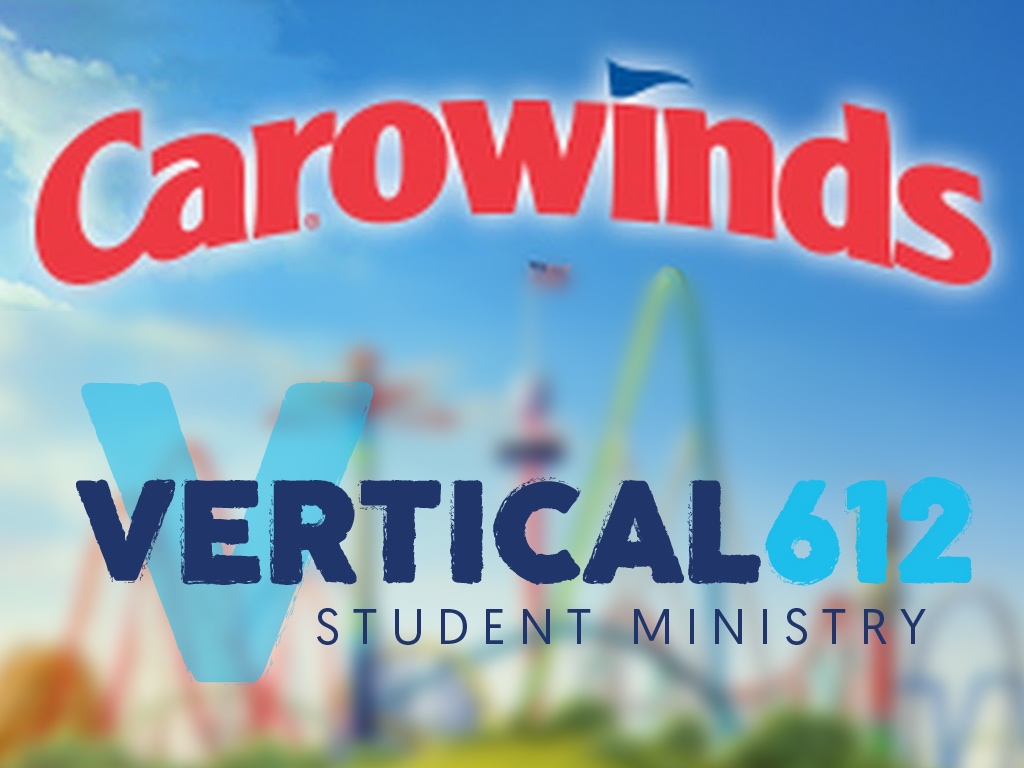 Carowinds Trip (Vertical 612)
June 21st, 2018
$0 - $35
Join us for a one-day trip to Carrowinds! Event cost includes admission to theme park and water park. Each participant will need to bring money for 2 meals, as well as proper clothing and sunscreen for a day of rides (and swimwear/towell if going to the water park).
We will rent a cabana for the group, so there is no need for individual locker rentals.
Student Life Beach Camp
July 9th - July 14th, 2018
$0 - $395
In addition to four days of worship, teaching and Bible study, Student Life Beach Camp will move you to the sand and surf, where you will experience a combination of God's beautiful creation and unforgettable time in Christian community.
We will spend our week at a beach front hotel, and enjoy time on the beach and/or pool each day. Plus, on our last day we enjoy special times of celebration and reflection on what God has done that week, as well as enjoying a nice meal out together.
We will be staying 5 nights in beachfront condos at The ElCaribe Resort in Daytona Beach Florida. We will have our meals, small groups and free time at the resort. The resort has two pools and ofcourse the BEACH! The beach has lifeguards. We will will spend our afternoons catching waves, playing games or sitting by the pool.
Our mornings and evenings will be filled worship led by The Rend Collective and Elevation Worship Band. We will hear truth from D.A. Horton and Greg Groeschel.
Our week culminates on Friday night when we worship on the beach by fire and hear students testimonies of how God has worked.